--
Head of Recovery Department:
Advocate Towfiqul Islam, LL.B (Hons), LL.M: He is specialized on Arbitration, Mediation, Negotiation, Labour Law, Human Rights Law, Criminal Litigation etc. He is also expertise in debt collection. He completed his professional degree in LL.B (Hons), LL.M from the University of Dhaka.
Chief Co-ordinator of Recovery Department:
Mr. Md. Sarwar Hossain: He has 15 years comprehensive Recovery Experience and he is one of the pioneer in area. He is very much competent in coordination and negotiation. He has a pleasant personality.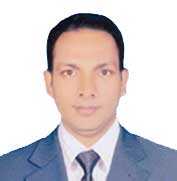 Asst. General Manager & Head of Recovery:
Mr. Md. Zilhas Uddin, B.A (Hons), MA: He is expertise to handle all products like Regular, Provision Card, Personal Loan, Business Loan, Auto Loan, Home Loan, Corporate Loan, recovery. He is very sharp in almost accurate planning and implementation. He has the specific vision towards goal. He is happy to do target oriented job. There are around 100 field agents under his supervision.
OUR TALENTED EXECUTIVE TEAM (RECOVERY)
Field Force of Provision Section
| | | | | |
| --- | --- | --- | --- | --- |
| Sl. | Agent Name | Designation | Qualification | Photo |
| 1 | Md. Abdul Malek | Collection Executive | H.S.C | |
| 2 | Md. Imran Hossain | Collection Executive | H.S.C | |
| 3 | Md. Shah Alam | Collection Executive | B.A | |
| 4 | Md. Akhteruzzaman | Collection Executive | B.A (Hons) | |
| 5 | Md. Farhad Ahmed | Collection Executive | H.S.C | |
| 6 | Md. Syed Shafiqul Hyder | Collection Executive | B.A | |
| 7 | Md. Rafiqul Islam | Collection Executive | B.S.S | |
| 8 | Md. Kamrul Hasan | Collection Executive | B.A (Hons) | |
| 9 | Md. Jahed Miah | Collection Executive | LL.M | |
| 10 | Md. Tarikul Islam | Collection Executive | B.B.A(HONS) | |
| 11 | Md. Anisul Haque | Collection Executive | B.S.S | |
| 12 | Md. Mamun Khan | Collection Executive | B.B.A | |
| 13 | Md. Shariful Islam | Collection Executive | T.S.E | |
| 14 | Md. Masud | Collection Executive | H.S.C | |
| 15 | Md. Mamunur Rashid Raju | Collection Executive | Post graduate | |
| 17 | Md. Abu Hanif | Collection Executive | H.S.C | |
| 18 | Md. Mostafizur Rahman | Collection Executive | M.A | |
| 19 | Md. Anisur Rahman | Collection Executive | MASTERS | |
| 20 | Md. Suruj Ali | Collection Executive | H.S.C | |
| 21 | Md. Fazlur rahman (Sohel) | Collection Executive | H.S.C | |
| 22 | Md. Rumon Hossain | Collection Executive | M.COM | |
| 23 | Md. Akram ali | Collection Executive | M.COM | |
| 24 | Md. Masud | Collection Executive | H.S.C | |
| 25 | Md. Rezul karim | Collection Executive | B.S.C | |
| 26 | Md. Harunor Rashid | Collection Executive | B.A | |
| 27 | Md. Alamin | Collection Executive | H.S.C | |
| 28 | Md. Bipul | Collection Executive | H.S.C | |
| 29 | Md. Nazmul Huda | Collection Executive | B.SC | |
-